Includes tempo change + chord charts in every key
Get ready for 14 exciting new tracks using real musicians that, quite frankly we don't quite know what make of ourselves. It's a veritable organic stew of acoustic, electric, synth, found sounds, percussion, sound design, digital and analog tweaks that create some of the most unique hybrid modal, ethnic (from where we have no idea) rave, house, trance, techno influenced backing tracks you've ever heard.
Instrumentation includes electric and acoustic guitar, bass, mandolin, violin, cello, banjo, ukulele, glockenspiel and piano; traditional percussion such as bongos, congas, triangle, shakers, cymbals, clave, hand drums and drum set; non-traditional percussion including but not limited to water bottle, back of guitar and violin, floor, stapler, fan grill, desk top and broken things. Oh, and don't forget the synthesizer drones, pads, pulses, keyboards and random miscellaneous sounds.
Pro Band Eclectic Styles Volume 1 is standing by to help push your jamming skills up to another level.
We'll warn you right now, this is not for the average jammer, but if your musical ideas are a little off the beaten path these may be the perfect tracks for you.
So what are you waiting for? Grab your guitar or whatever you like to improvise on, crank up the jams and let the magic begin!
Martian Horizon You're on Mars. OK we don't know how you got there and we're not asking any questions, but you are there now so make the best of it by dusting off your Lydian licks and jamming into the Martian night. Ethnic sounding, nice acoustic guitar driven track with percussion and mandolin.

The Journey Get ready to take a wondrous journey and experience the magical lands of your imagination...Ok, ok it's not a Disney movie but still it sounds magical to us. Lydian mode and major pentatonic time. Ethnic sounding, pulsing synth like sounds but mainly acoustic.

Between Worlds This sounds like it's from somewhere exotic but we haven't figured it out yet. Maybe Long Beach, CA. The ambiguity of this minor track allows the soloist to use either Dorian, Aeolian or Phrygian minor modes as well as the blues scale. Ethnic sounding, percussive track with sense of urgency and drama.

Shedding Moody introspective music with a sense of mystery for those days when you are feeling mysteriously moody and introspective. Solo using a hybrid mixture of Aeolian and blues scale sounds. Ethnic sounding, mainly acoustic driven track with percussion

Empty Rooms This sounds like it's from somewhere cool like maybe another planet, or Canada. Lydian mode and major pentatonic time. Ethnic sounding, deeply mysterious and moody track that is almost all acoustic based.

Mythology "Come Hades or high water become the man, (or the woman) the myth and the legend, at least in your own mind.
Create your own mystical riffs with the epic Aeolian mode as well as the minor pentatonic scale.Ethnic sounding, driving acoustic based track with a dash of electricity.

Strange Land You'll be no stranger in this unusual landscape as you explore unfamiliar terrain with your friend and guide, the Lydian mode and her trusty sidekick the major pentatonic. You'll grok it in no time at all. Ethnic sounding, droning, pulsing dreamy track that is mainly acoustic instrumentation (with a touch of electric and synth)

Many Skies There's never too much when it comes to jamming on a pulsing driving jam. Try the Dorian or Aeolian and even sneak in the Phrygian mode. Uptempo ostinato bass line driven track with lots of synth and natural percussion. Trance, house, rave and techno elements are subtly incorporated.

Moon Fragment Hang on as the sounds vibrate and spin all around. Don't try to follow but lead with your incisive riffage. Try the Dorian or Aeolian mode. Percussion heavy techno, house, trance influenced track with lots of electronically modified acoustic instruments.

The Mystery A license to be strange. Off the wall track calls for off the wall licks. If you've come this far there's no turning back. Aeolian mode and minor pentatonic to the rescue. Jazzy shuffle feel with cool mysterious synth sounds
Never Enough You'll never get enough of jamming on this classic retro sounding jam. Dorian mode is the answer to life's persistent questions. Medium tempo retro hybrid with elements of pop and techno with a repetitive synth bass part.
Race to Infinity You'll never find the end of excitement and creativity when jamming the Dorian mode and minor pentatonic scales on this track. Don't forget to come back now.Uptempo techno trance house influenced track with pulsing repetitive synth bass line
Forever Dawn In the mist between waking and sleeping, between shadow and light, in the place where resides the glimmering dust of fading dreams...Da da da da, da da da da Alright, alright it's not the twilight zone and I'm not Rod Serling, but this track will put you in the zone for the Aeolian mode and minor pentatonic scales. Slow spacey floaty groove in 9/8 time.
Shadows Pulsing grunge distortion makes you want to put on the strobe lights and laser light show. Cut through the night air with a dose of Dorian mode, blues scale, minor pentatonic. Super distorted grungy track in a medium fast 12/8 feel.",
Many backing tracks are available individually at 99 cents.
Also check out our combo packs and save up to 60% on each Pro Band backing track.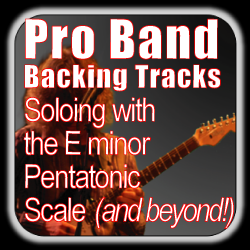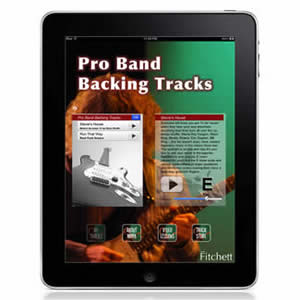 If you are a musician who is learning to improvise, there is nothing greater than jamming with live musicians.
However, when your band is not available when the you feel like throwing down some licks Pro Band backing tracks
is the answer. It's like a band in your pocket..